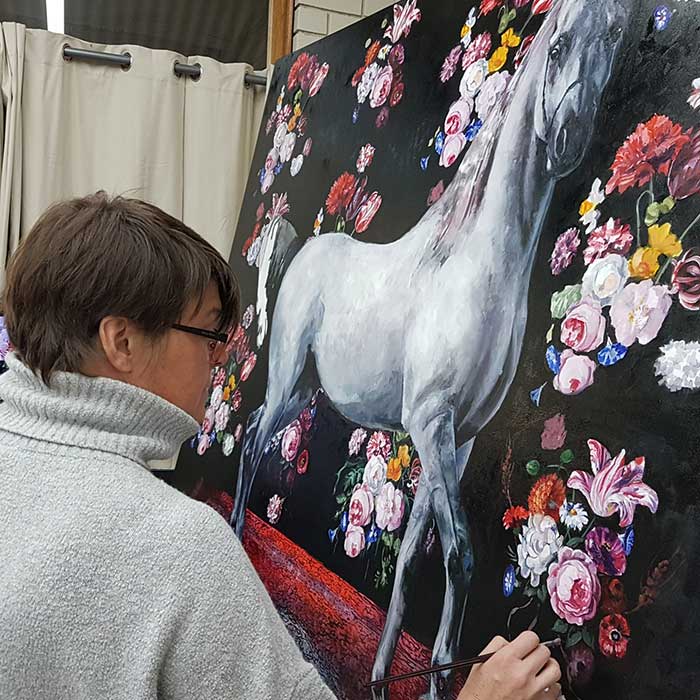 Megan Roodenrys
Megan is a third generation visual artist and received a Bachelor of Visual arts from the University of South Australia in 1996. Her Grandmother, Lorraine Holmes, was awarded an OAM for her contribution to art. Megan spent her formative years walking around the National Gallery in Canberra in the Australian Capital Territory with her Grandmother, which fuelled Megan's desire to build a career as a successful visual artist in her own right.
Megan is self-represented, making and selling her work from her own studio – Richmond Road Studios, in Adelaide, South Australia. Megan also owns a fine art supply store – "Duthy Street Art Supplies" where she often paints and works whilst discussing materials and techniques with her clientele. Megan was previously represented by the now retired Susan Sideris at the Hanrahan Studios in Adelaide.
Megan is passionate about drawing, especially the expressive quality of the markings that result, communicating three dimensional form on a two dimensional medium. Megan's core practice is directed towards exhibitions and private commissions, however when her schedule allows, she works within communities on projects such as art gardens and murals.
Megan has been involved in her own business ventures, including the establishment of of three café/restaurants in Adelaide where her role is the interior design, aesthetic and installation at each venue. Megan is insistent that each venue exhibited the art of local artists and provided a venue for art exhibition launches.
Megan resides at her home in Richmond Road, Adelaide with her partner, Michelle and three teenage children.