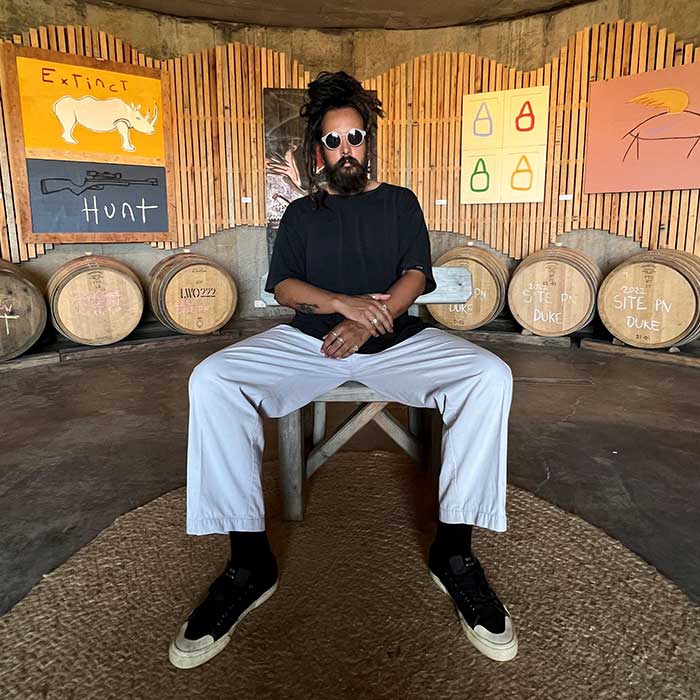 Joshua Searle
Joshua SearIe is a young Australian/Colombian artist who is self-taught. In less than two years he has already had a huge impact and is taking Australia by Storm!
Searle's initial explorations of painting were largely sparked by the inspiration of Haitian-Puerto Rican-American artist Jean-Michel Basquiat. Particularly, Basquiat's use of colour, cryptic text, challenging contextual aspects, and propensity for working at scale.
Joshua Searle explores similar themes – relating to childhood, black genius, joy, colonization, urbanization, cross-cultural experiences, industrialization, and psychology. Searle uses a variety of mediums including acrylic, oil stick, oil pastel, pencil, enamel, and spray paint, often painting upon found materials.
In 2022, Searle was commissioned by the Mornington Peninsula Regional Gallery to produce large-scale painted banners for the gallery's exterior facade, and held a solo exhibition at Ventana Fiesta, a Latin American Festival, alongside leading contemporary Latin American artists.
Searle's practice of using found and mixed materials is not new to the world of art and is a practice we have seen many of the worlds great artists incorporate, especially in the early stages of their career, and where we often find some of their best work. It encompasses his explorations of socio-political commentary, cross-cultural experiences and his internal reflection and contemplation.
Joshua Searle has gained a lot interest since he first began exhibiting in 2021, holding five solo exhibitions on the Mornington Peninsula and in Melbourne, and has had work included in several group exhibitions in Melbourne, Sydney and Byron Bay next!
Curator Emily McCulloch Childs who is a gallerist, curator, writer and art historian amongst other things, along with Julian Edwards of JEFA Gallery are big fans of Joshua Searle. We believe he is well worth supporting and collecting at this early stage of his career, or at the very least keeping an eye on – watch this space!