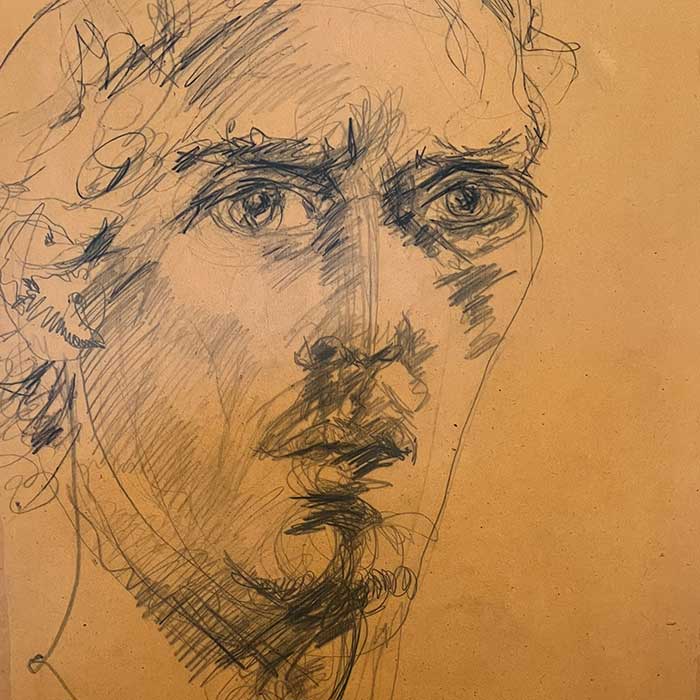 Craig Ruddy (1968-2022)
Craig Ruddy is an award-winning contemporary artist who used to live and work in The Byron Bay shire of the Northern Rivers NSW, Australia. He gained significant recognition for his unique approach to portrait painting and his ability to capture the essence and emotions of his subjects.
Ruddy was born on September 18, 1968, in Sydney, Australia and in January 2022, at just 53 years of age Craig Ruddy died at his home in Byron Bay with his partner Roberto by his side.
Craig Ruddy was renowned for his dramatic figurative portraits that are often interwoven into richly textured abstracted landscapes with a deep exploration of the human form and emotions. Ruddy's art practice explored the space between our real and mythical connections to the land and environment. His work reflects a deeply personal spiritual journey, where the artist explored questions of social conscience as well as current environmental issues.
In 2004, Craig Ruddy had a dream he was to paint David Gulpilil, so he packed his backpack and went to find the Actor. Conducted a study. Created the artwork. Entered it in The Archibald Prize & Won! The painting was titled "Two Worlds," which helped catapult him to national prominence. The portrait is notable for its striking use of freehand and the way it captures Gulpilil's presence and personality as well as being painted on customs house wall paper! After being contested by another artist, which took two years to clear up in the courts, the painting went on to sell at Sotheby's Australia for over $300,000 AUD.
Throughout his career, Ruddy's work explored Indigenous Australian culture and history in his art, creating portraits that resonate with depth and emotion. Ruddy's unique style allowed him to bring a contemporary and vivid perspective to traditional portraiture.
Ruddy's works have been exhibited in galleries and art institutions worldwide, and his contributions to the art world have earned him a reputation as a distinctive and influential contemporary artist. His innovative approach to portraiture and his exploration of human emotions continue to captivate audiences and contribute to the rich tapestry of Australian art.
As a child, Craig Ruddy would wake from his dreams to see the profiles of unfamiliar Indigenous faces in the shadows of his darkened bedroom and began to draw them. After a time, and as Craig grew up, he studied graphic design & the arts. he experimented with different mediums and ways of transcribing the messages that these visitors conveyed to him in his very own dreamtime.
Hauntingly real, evocative, Ruddy has an ability to depict the very essence of things. Depicting raw human expression on abstract landscapes rich with texture, movement and vibrant with life. Uncensored. Beautiful and evolving. His work process involves a complex layering of mixed mediums that include paint, charcoal, pencil drawing, varnish and even glass. Ruddy's figures become inseparable from the landscapes in which they reside. His unique use of layering creates an illusion of transparency, whereby the foreground and background seem to both simultaneously co-exist and disappear, becoming one and the same.