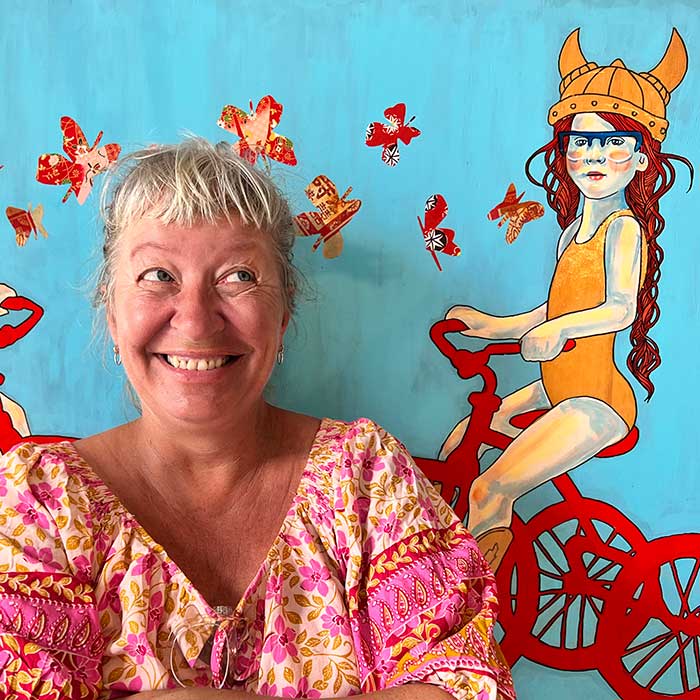 Carmel Debreuil
Carmel Debreuil grew up in a creative family in Manitoba, Canada, where the winters are long and the days are short. From a young age Carmel always loved drawing people, especially princesses in dresses as she was determined to become one when she grew up.
This obviously didn't happen!
Carmel Debreuil started traveling out of high school and worked as a portrait artist for a couple of seasons in Paris producing about 3000 portraits during the time. Debreuil studied sculpting in Mexico and then went on to teach and hold art lessons in Australia.
"My style evolved over the years from realism to trippy hippy kinda stuff on round canvases to my now easily recognisable mashed potatoes for the eyeballs genre. It's quirky and fun, has a bit of a retro feel and candy store pops of colour." She says when questioned.
Debreuil often paints on wood which dictates the position of the characters. "I can keep as much of the interesting bits of the wood knots and the grain visible to become part of the story." She uses varnish, metallics, glow in the dark paint and more recently she has been revisiting fire.
"I enjoy experimenting with different media and techniques. I love colour combos but I'm also a sucker for brooding darks, burnt wood, and anything shiny. I've also been experimenting with my sister in Canada by animating some of my pieces. That is pretty mind blowing!" Sounds like NFT's are on the horizon.
Carmel Debreuil has many muses she has painted over the years. Her first muses were her sons, especially the youngest, who reminded her of an older brother who wore striped shirts, glasses and cowboy boots and was so full of fun and danger. Those boots and glasses have became a signature to almost all of her work you see today.
"I really enjoy kids at a certain age where they are a bit defiant and bratty but still have this awesome imagination. I love to tell stories with the paintings or at least create some sort of scenario that is cheeky and makes you grin." When you meet Carmel, you know straight away this fits her to a T, and she is in fact a big kid in those boots and glasses!
"For me, painting is like having an imagination party. Anything is possible and it's always cool to see something I've been visualising jump out of my head and onto the wood. And it's always a thrill when the little orphans find someone who loves them as much as me and head off to a new home!"
We total agree Carmel and we love working with you. If you know what is good for you, you will support and collect her work too!