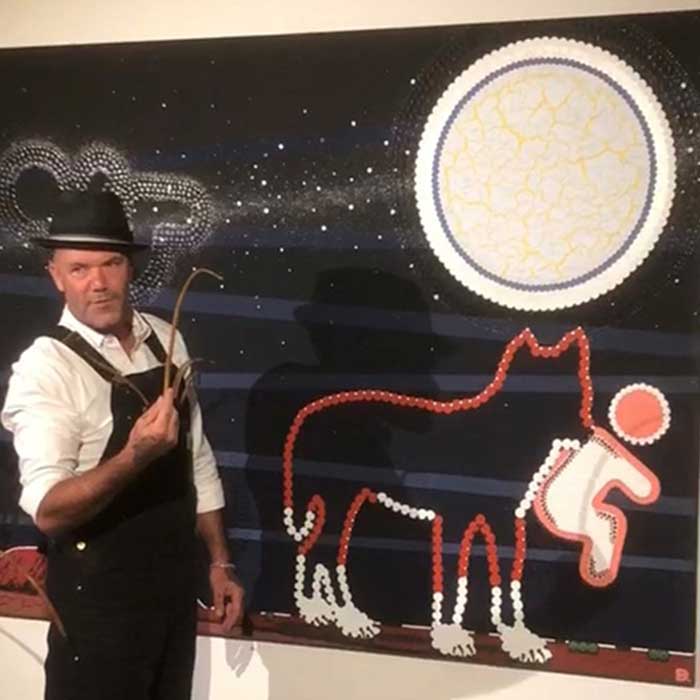 Blak Douglas
Blak Douglas is the artistic pseudonym of Adam Hill, an Australian contemporary visual artist known for his vibrant and socially engaged artwork. He was born in 1970 in Sydney, Australia.
Blak Douglas's work often addresses issues related to Aboriginal identity, culture, history, and social injustice. His art combines various techniques and mediums, including painting, street art, and mixed media.
Blak Douglas's draws inspiration from his Aboriginal heritage and uses his art as a platform to raise awareness about the experiences and challenges faced by Indigenous Australians.
Blak Douglas has exhibited his work in numerous galleries and art spaces in Australia and internationally and in 2022 Blak Douglas won the Archibald Prize with a portrait of Karla Dickens. His art not only captivates audiences with its visual impact but also prompts important discussions about the legacy of colonization, identity, and the ongoing struggle for equality and recognition faced by Indigenous communities in Australia.
Blak Douglas' work is significant and profoundly bold in its depiction and message. What we have here is an artist who is completely dedicated to delivering the truth as he has learnt it. Blak particularly focuses on what it means to be an Aboriginal man with part Irish decent in the 21st century, with all the cultural clichés that haunt him and the ironies present within the "Australian Dream". Born somewhere in between here and there, then and now, Adam Hill aka Blak Douglas has a speakeasy, sometimes comical, slapstick yet totally on point and uncensored attitude towards the establishment and all the pawns in the game. His work is a thrilling and absolutely necessary experience for all Australians!
COLLECTIONS
Art Gallery NSW, 
Blacktown, HOTA Qld, Liverpool, Campbelltown, & City of Sydney Councils, Aboriginal Art Museum (Utrecht), Maitland Reginal Art Gallery, National Gallery of Australia, National Maritime Museum, National Museum of Australia, Australian Museum, Town Hall Collection and Taipei Museum.
AWARDS / COMPETITIONS
2022 WINNER – The Archibald Prize, AGNSW
2021 WINNER – The STILL Art Prize, Coffs Harbour Regional Gallery
2019 FINALIST – The Kings Art Prize
2019 WINNER – The Kilgour Art Prize, Newcastle Art Gallery
2019 FINALIST – The Archibald Prize, AGNSW
2019 FINALIST- Muswellbrook Art Prize
2018 FINALIST – The Archibald Prize, The Blake Prize, King & Wood Mallesons Contemporary ATSI art prize, Mosman Art Prize, Fishers Ghost Art Award, Blacktown Art Prize, Korean Australian Art Foundation Prize
2017 FINALIST – Mosman Art Prize, Mosman Art Prize, Sydney
2016 FINALIST – Cossack Art Awards, Karatha W.A.
2015 FINALIST – The Archibald Prize
2015 FINALIST – Parliament of NSW Aboriginal Art Prize
2014 FINALIST – Mosman Art Prize
2004-9/11-14 FINALIST – Parliament of NSW Aboriginal Art Prize (Commended)
2009 HIGHLY COMMENDED – Cricket Art Prize Sydney, FINALIST- Wynne Prize
2003-8 – Telstra Aboriginal and Torres Strait Islander Art Award FINALIST
2008 FINALIST – Mil-Pra Art Prize
2007 FINALIST – The Xstrata Coal Emerging Indigenous Art Award
2006 WINNER – Maria Locke Award, Mil-Pra Art Prize
2005-10  FINALIST – Parliament of NSW Aboriginal Art Prize
2004 WINNER – Mil-Pra Art Prize, Artist in Residence, The Canberra Grammar School
2003 WINNER – Mil-Pra Art Prize – Liverpool Council Mayor's Choice Award
2002 WINNER – Blacktown City Art Prize – Inaugural